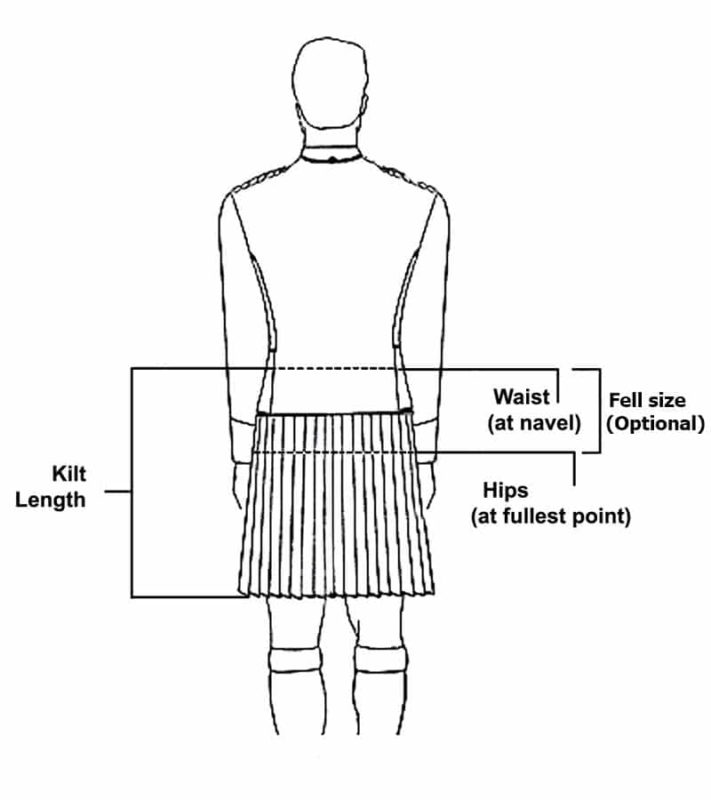 If you are new to buying Kilts online, this online measuring guide will assist you in measuring Kilt size using the simple guide below for yourself.
It is absolutely necessary to measure kilts before purchasing them! Well, it's better to measure first rather than buying the wrong size and return the product for a different size. Furthermore, the jeans industry has its own measurement standards, and a short or jeans pant does not reflect your actual waist to best fit because your kilt size is larger than your pants size!
So, to assist you, the following simple measuring steps will assist you in measuring the size of your Kilt without being measured incorrectly.
The three measurements you must take are as follows:
Determine your waist size.
Determine your hip size.
Determine your Kilt Length
Determine the Fell
1- Take your waist measurement.
This is the first step, which is to measure your waist size. Wrap a sizing tape around your body at the point of your waist or belly button, or wherever you intend to fasten the kilt. A kilt is normally fastened at the belly button, but it is entirely up to you where you want to fasten it. So, take a normal breath and measure the point (our kilts have little loss for best fitting), and write it down on the page in inches or centimeters to update your order.
It will most likely be 2 to 4 inches longer than your pant size. It is quite common.
TIP: Big men with big bellies may want to wear the kilt the naval, because it gives a more attractive appearance
2- Determine the Hip Size
It is also important to measure the hip size because it will look better with proper hip size fitting. Why is it necessary to provide hip size? It's an intriguing response; while we're making your kilt, we need to know whether you have normal hips or not!! Because it would be embarrassing and uncomfortable to wear your kilt in public if your hips did not fit. We take care of every step of the manufacturing process because we make a custom-made to order kilt.
3- Determine the Length Size
Now you must determine the length size, which is the length your kilt should hang while standing straight. People dress as they please, but a kilt should reach your kneecap (though this is not a requirement; it is entirely up to you). However, make certain that your starting point is from your waist or where you intend to fasten your kilt. So it will be a length from your waist to your knee cap or whatever length you desire. The standard kilt length, or drop length, is 24″ in a male case and 20″ in a female case.
4- Determine the Fell Measurement
To complete the measuring procedure, you must now measure the Fell measurement; however, this is an optional measure. Fell is measured from your waist to your hips. Some people prefer their kilts to be roomy or airy, similar to how pants fit at the hips, so if you update your fell measurement, you can meet this requirement as well. Most of the time, a Fell measurement is not required because most kilts are manufactured to a standard fell measurement of 5-7 inches as measured along the total length of the kilt.