Unmatched Military Style
Elevate your fashion game with the US Army Sage Camo Commando Kilt, inspired by the rugged aesthetic of the military. Discover how this unique garment combines the essence of commando wear with versatile camo patterns.
Quality Craftsmanship
Our Commando Kilt is meticulously crafted to meet the standards of durability and style that the US Army exemplifies. Explore the details and superior workmanship that make this kilt a standout piece.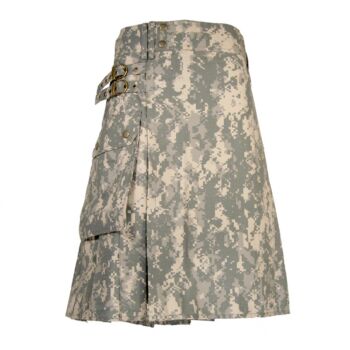 Rugged Camouflage Design
The Sage Camo pattern in this kilt blends seamlessly into outdoor environments, making it an excellent choice for adventurers, hikers, and outdoor enthusiasts. Uncover the camouflage design that sets this kilt apart.
Versatile Utility
Not just a fashion statement, this Commando Kilt offers practical utility. Learn about its spacious cargo pockets, providing ample storage for your essentials, making it an ideal choice for your outdoor excursions.
Comfortable and Durable
Discover how comfort and durability go hand in hand with this kilt. We'll delve into the materials and design elements that ensure long-lasting wear, even in the toughest conditions.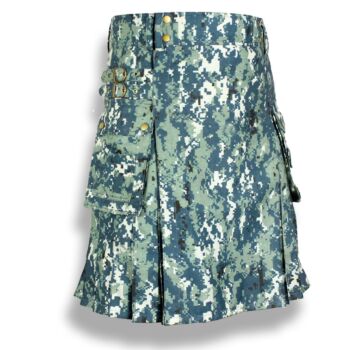 Perfect for Military Enthusiasts
Whether you're a military enthusiast or simply appreciate the aesthetics of army-inspired fashion, this kilt is a must-have addition to your wardrobe. Find out how it captures the essence of military style.
Order Your Sage Camo Commando Kilt
Ready to embrace the rugged charm of the US Army Sage Camo Commando Kilt? Explore our collection and order your kilt today to experience the perfect blend of style, durability, and versatility.
Commando-Style Confidence
Step into the world of military-inspired fashion with the US Army Sage Camo Commando Kilt. Discover the confidence it brings to your attire.
Rugged Camo Design
Uncover the rugged charm of our Sage Camo pattern. Explore how this kilt seamlessly merges style with outdoor functionality.