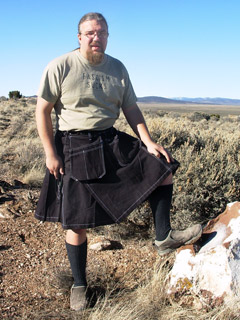 There isn't anything about the Blaklader that is as bad. There are a lot of pockets. I would like to see certain pockets were shut more securely. I would not put my phone or wallet inside the pockets on the outside of my front, However, they are great for a pouch to store screws, nails, or even notepads.
At one point, I have stated that I had a fairly expansive concept of what is a "kilt". And I should be clear up front, that the Blaklader Swedish Work "Kilt" does not meet my criteria. It is a work skirt for men and maybe a suitable item for certain people however I was quite dissatisfied with mine.
One of the things I consider crucial when deciding the quality of an actual kilt is whether or not it is pleated. The Blaklader does have pleats, but not really. I don't think that 1/2 inch is deep pleats. They are more like wrinkles that are not sewn within a cone of fabric The kilt must have pleats of some length that extend up to the waistline and then taper to form the shape of the fall. The man's skirt doesn't. In addition, I can't discern how the designer wanted certain of these "pleat-lets" to lay.
Another thing that I have come to realize is crucial in a kilt but I never thought about in the past is that A kilt has to taper towards the lower part of the fell to ensure that the weight is evenly distributed over the entire. The Blaklader closes by pressing four buttons on the waistline, spreading the entire pressure across an extremely narrow strip. It can be worn like a badly made pair of pants.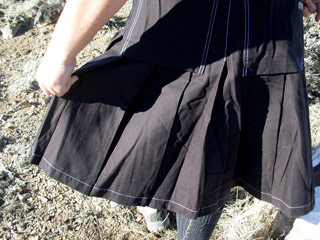 A final thought. It's a less expensive job "kilt" than a Utilikilt Workman model, which is about 50% less. It does feature a Hammer loop. If a man truly needed something that was easy on his manhood when working, this could be a good choice for this need. I wouldn't say that it's being as good as an Utilikilt Workman, however, for some, it could be the cost that makes it the best choice. The safety model is light-colored daytime glow and is beneficial for controlling traffic. the motorists who stare at them could be entertained, not simply annoyed, when waiting for their turn to go through a road.
Since I purchased my Blaklader, they now have a retailer in the United States , The New Worker seems to carry that Blaklader Workman's "kilt" however, it is black only.
The Good: It is cheap and has lots of pockets. It could prove useful as an unbifricated garment for workmen. I wouldn't care if I got paint or motor-oil on it.
The Bad: It fits poorly in the waist and has no real pleats. Some pockets are like pouches and not very secure at holding valuables. Ugly. Not really a kilt, rather a strange looking man skirt.